My Sweetheart's Like Venus—24 May 2009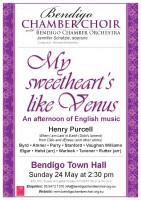 Conducted by Michael Bottomley
with Bendigo Chamber Orchestra and Jennifer Schatzle, soprano
When and where
Sunday 24 May 2009, 2:30 pm
Bendigo Town Hall, Lyttleton Terrace, Bendigo.
Program
Henry Purcell (1658–1695):

Rejoice In The Lord Alway (choir and orchestra)
Hear My Prayer, O Lord
Chaconne (orchestra)
Dido And Aeneas:

When I am laid in earth (Jennifer Schatzle, soprano with orchestra)
With Drooping Wings (choir with orchestra)

John Amner (1579–1641) Come Let's Rejoice
William Byrd (1542–1623) Ave Verum Corpus
Charles Villiers Stanford (1852–1924) Justorum Animae
John Tavener (1944–) Song For Athene
Hubert Parry (1848–1918) My Soul There Is A Country
Ralph Vaughan Williams (1872–1958) The Dark Eyed Sailor
Charles Villiers Stanford (1852–1924) The Blue Bird
Arr. Gustav Holst (Welsh) (1874–1934) My Sweetheart's Like Venus
Peter Warlock (1894–1930) Capriole Suite (orchestra)
Edward Elgar (1857–1934) The Snow
Arr. John Rutter (Somerset) (1945–) O Waly, Waly
Arr. Ralph Vaughan Williams (1872–1958) Just As The Tide Was Flowing
Notes
This concert of English music from the Bendigo Chamber Choir and Orchestra in part celebrates the 350th. anniversary of Henry Purcell's birth. The program includes the 'Bell' Anthem (Rejoice in the Lord), Hear My Prayer, an excerpt from Dido and Aeneas (Dido's lament When I am laid in earth (soprano Jennifer Schatzle) followed by the opera's final chorus) and his Chaconne in G minor for string ensemble.
The first part of the program goes on to explore further the English sacred anthem including Byrd's Ave Verum and Parry's My Soul There is a Country.
The English folk song has always been a strong resource for English composers. In the second part of the concert we perform folk song arrangements by Ralph Vaughan Williams, Gustav Holst and John Rutter. You will also hear beautiful examples of the English song—The Bluebird by Stanford and The Snow by Elgar.
The second half of the program includes the enchanting Capriole Suite by Peter Warlock, performed by The Bendigo Chamber Orchestra.
Information and Tickets
Enquiries about the concert: info[at]bendigochamberchoir.org.au or call Michael 03 5472 1370
Tickets: from Capital Theatre 03 5434 6100 or at the door
2009
October 9, 2011 at 1:01 am