Schütz and J S Bach—26 April 1998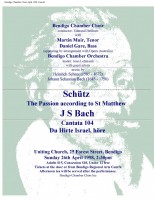 Conductor: Edmund Beilharz
with Bendigo Chamber Orchestra (leader Jean Lehmann) and guest soloists:
Martin Muir, Tenor
Daniel Gare, Bass (appearing by arrangement with Opera Australia)
When and where
Uniting Church, 25 Forest Street, Bendigo
Sunday 26th April 1998, 2:30pm
Program
Heinrich Schütz (1585 – 1672) The Passion according to St Matthew
Johann Sebastian Bach (1685 – 1750) Cantata 104 Du Hirte Israel, höre
Notes
Schütz The Passion according to St Matthew
Bach is not an innovator, but rather the composer who sums up and whose work is the culmination of 150 years of Baroque music. His achievement is unthinkable without his predecessors who cultivated and developed the various forms of music before him.
Greatest among these predecessors is Heinrich Schütz, a composer with enormous output who coped with personal tragedy as well as the many and enormous upheavals of the Thirty Years War during his long life. He started composition in the Renaissance style under Gabrieli, but on a second visit to Venice in 1628 was able to wed the opulence and drama of Monteverdi to his own German style in the bulk of his work. At the age of 79 he composed Passions according to each of the four Evangelists.
In this work all inessentials are refined away in an almost austere style, leaving an inner warmth and sincerity. The Schütz Passion sets a predecent for Bach's St. Matthew Passion, yet holds its rightful place beside that great work. The text for the Passion is the entire Matthew chapters 26 and 27 with no additions or alterations.
J S Bach Cantata 104 Du Hirte Israel, höre
Of Bach's 300 cantatas (5 completed cycles for all Sundays and Holidays of the Church Year), there are about 200 left today.
This cantata, a setting of Psalm 80, was written for the second Sunday after Easter. It is one of the most easily accessible, with the dance-like elaborate opening chorus with shepherds and oboes, the first Aria an intoxicating weaving of two oboes, tenor and continuo, the elaborate lullaby for bass and strings, and the final simple statement of confident faith in the closing chorale. All are ravishingly beautiful!
Edmund Beilharz, April 1998.
Information and tickets
Adults $15, Concession $10, Under 12 free
Tickets at the door or from Bendigo Regional Arts Centre
Afternoon tea will be served after the performance.
1998
March 18, 2011 at 3:23 pm